Please follow these instructions to register your student at Crossroads Christian School. For more information, please review the registration FAQ or contact the school office and Billing Clerk.
Pick up application
Visit Crossroad's Front Office or Finance and Billing Department to pick up an application. Applications are also available in PDF form here.
If you have any questions about the application, please review the FAQ for answers to general questions or call the Billing Clerk for answers to specific questions.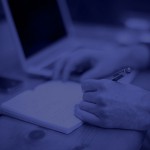 Fill out application
Please fill out the application and remember to fill out all sections completely. Even if your student is returning please update the medical, financial, and personal information.  Questions about specific sections can be addressed to the school office or Billing Clerk.
Turn in the application
Turn in your application during the registration period, which is listed online and in the application. Applications must be complete in order to be processed. Applications for Early Registration need to be turned in before the Registration date.  Regular registration applications can be turned in on or after the Registration date. To remain fair to all applicants, applications returned prior to the start of the registration period will not be accepted.